Nutritional Medicine seeks to remove the cause of disease, rather than suppressing the symptoms. It is a science-based approach in dealing with our individual needs since each of us are biochemically unique. Our bodies are finely tuned machines requiring essential vitamins and minerals for all of our bodily functions - nerve conduction, muscle contraction, muscle growth, brain activity, reproduction to name but a few.
The removal of accumulated toxins, together with a balanced diet and repairing digestive issues, allows the immune system to properly function. This results in the improvement of health physically, mentally and emotionally as well as helping to normalise weight
---
Nutritional Medicine Can Help:
Allergies/Unexplained Health Conditions
Digestive Disorders/Gut/Bowel Disorders
Skin Complaints/Chronic Skin Conditions
Weight Loss
Low Energy/Chronic Fatigue
Candida
Headaches/Migraines
Hormonal Issues
Autoimmune And Inflammatory Conditions
Depression/Mood Swings
Joint Pains And Inflammation
Babies And Children's Health
Unexplained Infertility/Preconceptual Care For Healthy Babies
What to expect:
During a consultation Ann will take the time to get to know you, your health complaint, general quality of life and your dietary habits. She will spend time identifying what foods may be having an adverse affect on your body using a number of methods including testing for food allergies, sensitivities and intolerances using applied kinesiology.
Ann will look for potential mineral deficiencies and in some cases will recommend laboratory tests to assist with diagnosis giving you a clear understanding of what your body needs.
Once this information has been gained you will receive a tailor made plan for you including recommended foods and supplements. Very often you will notice the benefits within a few days.
If you would like to have a phone consultation with Ann to discuss whether nutritional therapy can help your complaint please contact the clinic on 01372 464659.
Cost:
First visit £135 for a 90 minute appointment
Follow-up visits £70 for a 45 minute appointment
Our Therapist:
Ann is a highly skilled Nutritional Therapist and studied at St. Bartholomew's Hospital in London. Ann has been at the Claygate Clinic since it opened in 1997 and during this time has helped many people get their life back.
Ann has always had an interest in nutritional therapy but her passion increased after her son experienced a serious medical reaction. Ann was able to treat him naturally without the surgery or medicines that were offered. Ann has a particular passion for helping babies and children and couples looking to conceive.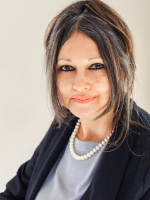 Ann Shaw
Nutritional Therapist
Ann studied nutritional medicine at St. Bartholemew's Hospital in London and qualified in 1992. She is NTCC qualified, (Nutritional Therapy Certificate of Competence), and CNHC registered, (Complementary And Natural Healthcare Council), recommended by the Dept. of Health
Testimonials
I am pregnant!! Thank you for everything you have done for us so far, it has been life changing! (trying to conceive for 2 and a half years and now pregnant, 10 weeks after first consultation). Mrs. E.B. – Middlesex
He has now had full attendance at school and no longer having tummy pains and diarrhoea. I have no hesitation of recommending you to everyone" Mrs. S.T. – Surrey
After 18 months of sleepless nights and tears and fights at mealtimes and little help from the doctors, we turned to Ann. She allergy tested our daughter and found that she was intolerant to certain foods and deficient in Zinc. We followed Ann's advice and within 3 nights our daughter was sleeping through, her appetite has improved considerably and we now have a much healthier, happier little girl." Ms C.H. – Surrey
Related Articles
IBS, (Irritable Bowel Syndrome), is the most common functional gastrointestinal disorder, typically characterised by...
Read Post
March 26, 2021
By Ann Shaw – Nutritionist at TCHP. Oestrogen can cause mayhem in your body if it is not balanced with progesterone...
Read Post