A Biomechanical Assessment is an in-depth analysis by our team of highly trained and experienced osteopaths who understand how pain and injury across the whole body can be affected by how well your feet move.
We use the latest Gait Analysis technology, GaitScan™ to gain valuable information about how differences in pressure points in the feet are stressing other joints in the body..
---
How Do I Know If I Need A Biomechanical Assessment?
A Biomechanical Assessment is for you if:
You have pain in your feet, ankles, legs, knees, plantar fascia, hips, spine
You think you may benefit from insoles/orthotics
You have injuries from your current sport/activity
You want to take up a new sport/activity and want to prevent injuries
You want to optimise how you do your current sport/activity or take it to the next level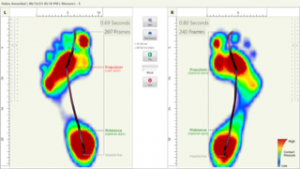 If you are not sure whether you would benefit from a biomechanical assessment please don't hesitate to contact us on 01372 464659 or send us an email using the contact form below.
Your biomechanical assessment will include all of the following:
Technical Gait Analysis on a pressure plate of your feet and posture, using GaitScan™ technology
A Video Movement Analysis on a treadmill (walking & running-if appropriate)
Full case history and chat about your health, injuries, sports and activities
Postural assessment and functional tests of the Spine, Hips, Legs, Knees and Feet
Assessment of your everyday and exercise footwear
Advice, referrals for treatments, orthotic prescription
A customised report provided from your GaitScan™ analysis
What To Bring To The Appointment:
Any trainers, casual shoes, work shoes that are worn regularly, any previous/old orthotics or insoles.
Wear close fitting comfortable sports wear (leggings/shorts, t shirt) and trainers for the walking or running
A completed patient registration form which will be sent to you ahead of your appointment
The Results Of The Assessment
After your assessment we will discuss the results with you, and give you the results in a report to take home. We will also create a personalised follow-up plan for you which may include:
Customised Orthotics (these are in addition to the Biomech fee) £200
Advice on training and footwear
Exercises for strengthening and stretching which are specific to you, using an easy to use an online, video-based exercise App.
A discussion of and referral to in-Clinic treatment options such as Osteopathy, Massage, Acupuncture, Pilates
Referrals to Orthopaedic specialists, Foot surgeons
How Much Does it Cost?
Initial assessment and consultation (Suitable for adults and children over 8 years)
£150 for 1 hour consultation
If customised orthotics are required:
There will be follow up appointments if orthotics are ordered (cost of follow up appointment is included in price of orthotics):
Orthotic fitting around 3 weeks after ordering- 15 mins - Cost is included
Re-scan to check improvements from exercises, and check orthotics etc -15-30 mins
Adjustments to orthotics are included in the price. We guarantee that if after 6 months you are not happy with your orthotics, you can return them and get a refund on the price of the orthotics.