Experts estimate that up to 80% of the population will experience back pain at some point in their lives. Most of the time the issue is mechanical and even the very acute pains are generally not serious.
In a small percentage of cases the cause will be more serious such as auto immune conditions like rheumatoid arthritis and other types of inflammatory arthritis, infection, fractures or referred pain from organs. Most of us, for example, are aware that the kidney can cause back pain.
If you are unsure what the cause of your pain is we recommend booking an appointment with one of our osteopaths. They are highly skilled at diagnosing causes of pain. They will take a detailed case history, do orthopaedic testing and if necessary referral back to your GP with recommendations.
If you know your joint pain is linked to inflammatory arthritis we recommend allergy testing. Very often intolerances can aggravate these conditions. Once an understanding of your food sensitivities has been identified, changes to diet can significantly reduce pain.
---
Our Services For Back and Joint Pain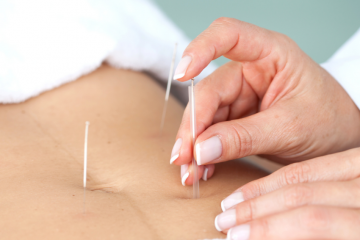 Acupuncturists use very fine, painless needles to activate specific energy points on the body. This helps to bring both body and mind back to health.  MRI scans show that acupuncture...
Read More
The Mobiliser™ is a specially designed bed with rollers built into it. The rollers gently travel along the length of the spine, neck, shoulders and legs using repetitive movements...
Read More