Chronic injuries are considered those which come on slowly when exercising. Typically these happen when increasing a training programme or if you are just starting a new exercising plan such as the couch to 5k.
As soon as you start to experience pain it is important to rest from the activity and consult one of our Osteopaths to get a clear diagnosis of the problem. Early intervention usually results in a faster recovery.
If you are suffering from a recurrent injury we also recommend that you take a look at our page on injury prevention
For diagnosis and treatment of your problem book in with one of our osteopaths who will take a full case history and carry out an examination using orthopaedic and joint mobility testing.
If you know what the problem is then acupuncture is also a very effective treatment for chronic pain. Acupuncture can help reduce inflammation and swelling, relax muscle tension and spasm, reduce bruising and increase the body's natural endorphins to relieve pain. It can also improve local blood circulation to increase delivery of nutrients to damaged tissue.
We also recommend The Mobiliser™, used by professional athletes including Sir Steve Redgrave, Sir Chris Hoy, Sally Gunnell MBE and Bernard Gallacher OBE.
Types of chronic injury include:
Shinsplints
Tennis elbow
Runners knee
Joint instability
Rotator cuff injuries of the shoulder
Back and hip pain
Plantar fasciitis
Most athletes will experience an injury at some point during their training. The two broad categories of injury are chronic injuries which are considered those which come on gradually...
Read More
Osteopathy is manual therapy that can diagnose the cause and provide treatment for a wide range of issues. In some cases the site of your pain is not necessarily the cause and a careful...
Read More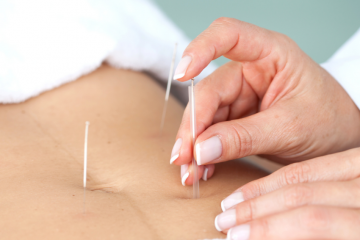 Acupuncturists use very fine, painless needles to activate specific energy points on the body. This helps to bring both body and mind back to health.  MRI scans show that acupuncture...
Read More
The Mobiliser™ is a specially designed bed with rollers built into it. The rollers gently travel along the length of the spine, neck, shoulders and legs using repetitive movements...
Read More